Our reputation as one of New Zealand's leading immigration practices sees us advising and representing clients in respect of both investment and business based visa products, assisting high net worth investors and successful business operators from a range of international jurisdictions.
Being one of the only New Zealand law firms to also have an International Tax team allows us to also provide guidance on asset structuring and multi-jurisdictional tax implications as part of a single retainer; something which is greatly valued by our clients.
Currently INZ offer two investment based visa products. A high level summary of these products and how they differ, is set out below.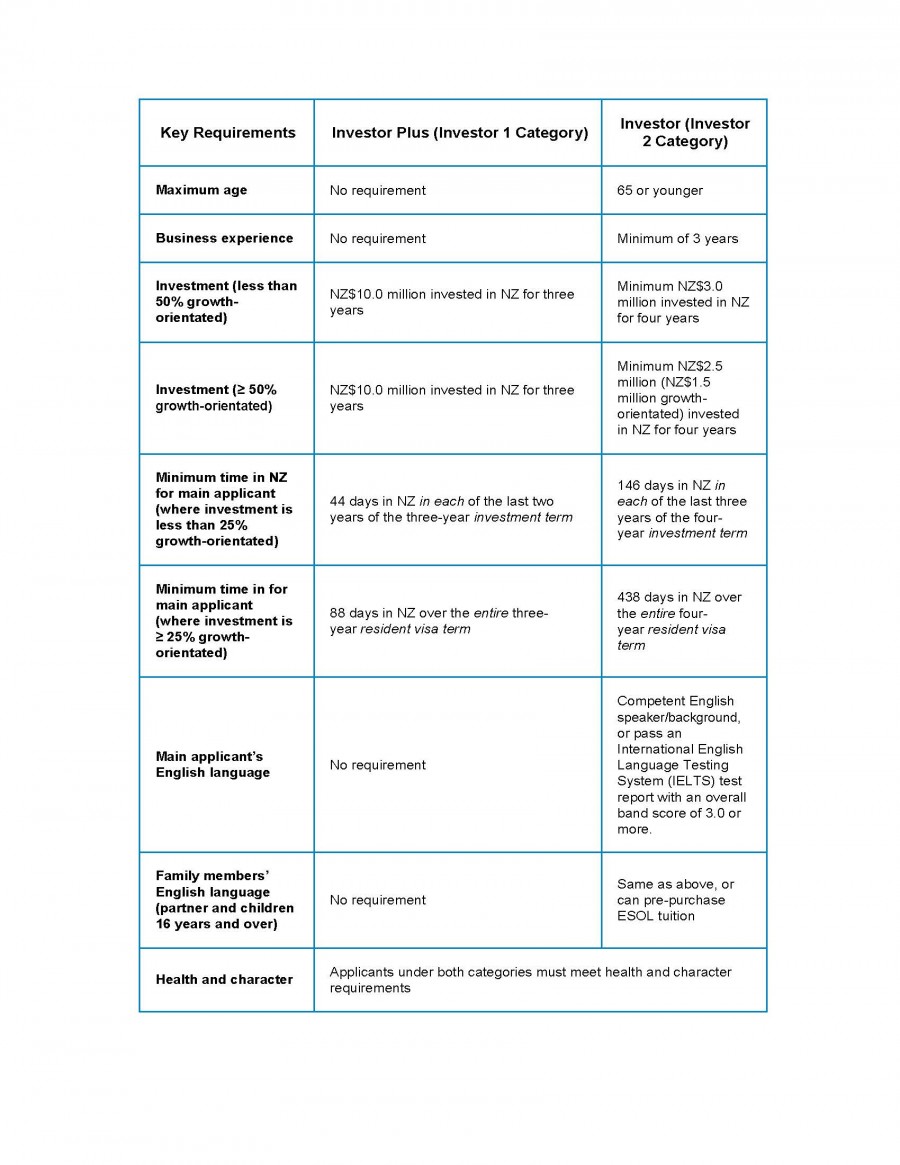 While acceptable forms of investment are prescribed under policy, New Zealand holds one of the most flexible investment-based visa policies in the world when comparing New Zealand with its main investment-based visa competitors.
New Zealand operates a policy that passively encourages more active (growth-orientated) investments, rather than prescribing them. This is achieved by offering a reduction in the amount required to be invested when a certain amount is allocated to growth investments. The policy therefore caters for risk adverse investors who seek the safety of investments such as New Zealand Government Bonds, those who wish to invest in residential/commercial property, and those interested in high risk/high reward private equity and venture capital investments.
Many applicants who are new to New Zealand start with fairly conservative mixed bond/equity portfolios before moving their investments into more growth-orientated areas once they have a better understanding of the New Zealand investment and business environment.
There is a great degree of flexibility in acceptable investments, particularly as investments can be liquidated and re-invested into alternative acceptable investments during the investment term at any time, provided the reinvestment transaction is completed within 30 days.
If you are looking to advance equity to a New Zealand firm, or wish to invest from a closely held family trust, we encourage you to seek advice on appropriate structuring well before the advance/investment occurs. We recommend a collaborative approach between our immigration and tax specialists, an accountant and an authorised financial adviser (AFA).
While the physical presence requirement does not appear onerous, and in relation to both categories will not automatically trigger tax residence status in New Zealand, it will be important for any individual who holds significant business assets and who anticipates generating overseas income (especially overseas income after the initial four year residency period) to receive specialist tax advice both in their current country of residence and New Zealand before submitting an application. Our international tax team is invaluable in this regard.